Bronzers for Deeper Skin Tones
Posted on Friday, 17 May 2013
Hey guys I thought I would make a new video about bronzers for deeper skin tones. At work recently a lot of women and girls with deeper skin tones have been coming in asking for bronzers. What do they want this bronzer to do? Do they want to look more golden or more red or just shimmery? Bronzers can be many things so I thought I would make this quick video recommending some products that can really warm up the skin and bronze up the skin too. These products are amazing and I have tried them all so check out my video. I hope this helps people who have really been looking for a bronzer and just dont know where to start.
The Makeup I am wearing is:
New Mac Mineralize Moisture Foundation - NC50
Nars Radiant Tinted Moisturiser
Mac Mineralize Moisture Cover Concealer - NC45
Mac Chromagraphic Pencil - Marine Ultra
Mineralize Extra Dimension - Glorify
Mineralize Extra Dimension - Double Definition
Bobbi Brown Bronzer - Dark 3
Bobbi Brown Bronzer - Deep 4
Mac Cream Color Base - Bronze
Mac Cream Color Base - Improper Copper
Nars Multiple Stick - Palm Beach

Eve's "Lip Lock' Album Review
Posted on Tuesday, 14 May 2013
Ok so I never really review albums but I thought this would be my 1st. I love Eve's new album "Lip Lock". I have been a fan of eve since her hit song "Who's that girl?" I know it's taken a while for Eve to release this album as I read on a few blogs she's had some delays releasing it. When Eve released "Tambourine" I loved it! The video, the makeup and especially as she was a Mac Viva Glam girl she had so much Mac products in her video.
So back to business! I am listening to her album and I love the sound. The album has mixture of dub step sounds and your classic hip-hop beats plus a few slow jams. Her album opens up with a strong number which is "EVE" Feat Miss Kitty I love this song already its very dubby and would sound amazing in the club. 2nd is her other single which she released a few months ago "She Bad Bad" I played this song in my DJ set months ago and everyone loved it. The thing is Eve has such a strong flow she just sound great on every beat. Eve totally smacked it in the "My Chick Bad Remix" her verse was the best hands down.
On Lip Lock Eve has a slow jam "Make it out of this town feat Gabe Saporta of Cobra Starship" to be honest everyone needs that one commercial song they need to release. It's not really my cup of tea as its very commercial but the song is quite catchy. Its like how Nicki Minaj released Starships it's a very commercial song but catchy you just need that type of song on your album these days to sell I guess.
Eve has defiantly got a lot of bangers on this album I wont go through each song because I'll leave that to you guys to listen to. My favorite songs are
·
All Night ( Feat Claude Kelly & Propain)
·
Keep Me From You ( Feat Dawn Richard)
·
Wanna Be (Feat Missy Elliot & Nacho) –
This has to be the best song on the album for me I hope she releases this. The beat just goes so hard and this would be amazing in the club. I just get a feeling she needs to release this!!! Missy Elliot & Eve always just have that chemistry on tracks together.
·
Mama In The Kitchen (Feat Snoop Dogg)
·
Grind or Die –
This song is so powerful I love it so much I actually will be adding this to my set, which I will be playing for Birmingham Pride. The song goes hard.
Album Track Listing
1. "EVE" f. Miss Kitty
2. "She Bad Bad"
3. "Make It Out This Town" f. Gabe Saporta
4. "All Night" feat. Propain
5. "Keep Me From You" f. Dawn Richard
6. "Wanna Be" f. Missy Elliott and Nacho
7. "Mama in the Kitchen" f. Snoop Lion
8. "Grind or Die"
9. "Zero Below"
10. "Forgive Me"
11. "Never Gone" f. Chrisette Michele
12. "She Bad Bad (Remix)" f. Pusha T and Juicy J
All the other songs on the album are all cute but these are the songs that stood out for me go get her album on ITunes now! LOVE……. E-V-E

Life!
Posted on Monday, 13 May 2013
We all can lose our way in life sometimes even I have. I remember growing up and having this path which I would follow. When I was younger I always felt that I had a plan and my life would fall perfectly in this plan. You think you're going to get your dream job and you feel like life is just going to work out perfectly for you. The reality is life isn't like that we all wish life could plan out how we want to and have out dream jobs and out perfect relationships but something hits us.
Obstacles!!!!! we all fall in the way of them or get blocked by them. In our tracks we are stopped if it's not by love or by something else our minds are drawn too. I've gone through life saying I want to do this and be this and do that. In reality I remember only wanting to do something because I thought It would make me loads of money so I could make my parents happy. I can't believe I wanted to be a doctor at one point in my life. I can't even imagine handling 8 years of university it would drive me insane. Fair enough being doctors and dentist's are for some people but not me. Never want to do something just because of the money if your hearts not in it you will fail.
If you want to live your life in particular way do it for yourself never want to live your life for someone else. I always feel that people feel like that need to act upon something to make someone happy or prove something to someone. I was just thinking the other day how I heard about someone to be reveled to be a fraud by doing something illegal but in there pictures they were living such a glamorous life and eating at the best places and going from a to b all over the world. I remember someone saying "Wow I want to have their life mine is shit" I just thought wow like do we all want to be someone else? Now this person is found out to be a fraud it put things into perspective of how if this persons life was not as it seemed then why would you try and be like someone who lived a fake life.
I feel like these days everyone just cares about being pretty, having the best things and just trying to make a quick dolla so they can post there expensive outfits and meals on instragram to make there friends or enemies value them more. Ok I actually going on a rant here but to be honest all I'm saying I remember the days when I used to say I cant wait to be older and drive a car and go clubbing and shit. When I think back now, I wish I wasn't in such a rush to grow up because being a grown up is horrible all the responsibilities all the heartbreak and fake friendships means nothing.
Its all about finding you're own person and acting on what you want to do. Everyone can be anything they want to be. They can either fake it to they make it or just work damn hard to get to where they want to be. The problem with me is I used to think OMG! This person is doing that and I aint doing fuck all. I never hated on anyone but sometimes you think wow this person is really doing well for themselves. Instead of analyzing how this person is doing put your foot down and make your own journey that's how they did and it now do it yourself its all about making your mark.
If you don't make a mark no one else will do it for you. If you want to be noticed only you can make your light be seen.

Nicki Minaj Teen Vogue Cover
Posted on
I have recently seen such a dramatic change in Nicki Minaj. I'm not sure what's happened but she's either changed her stylist and makeup artist but these days she is looking so beautiful but naturally. Don't get me wrong she wasn't looking horrible before its just now she looks so amazingly fresh and just radiant. I love her on this month's Teen Vogue Cover. The grey lilac hair is really working for her, I haven't watched much of American Idol because it bores me but I have seen pictures of her and she looks amazing.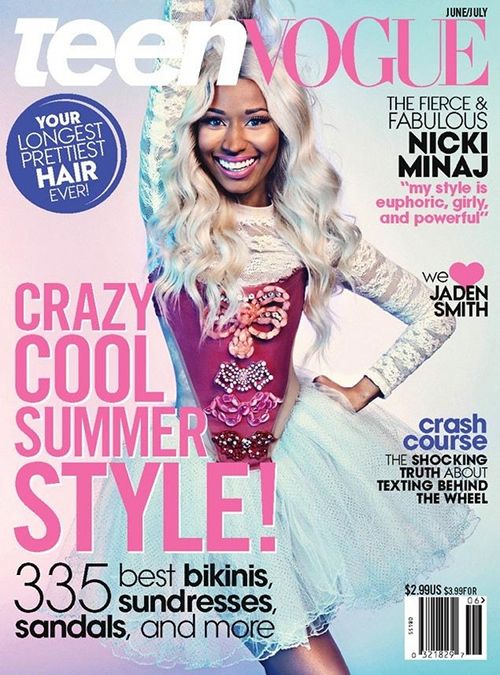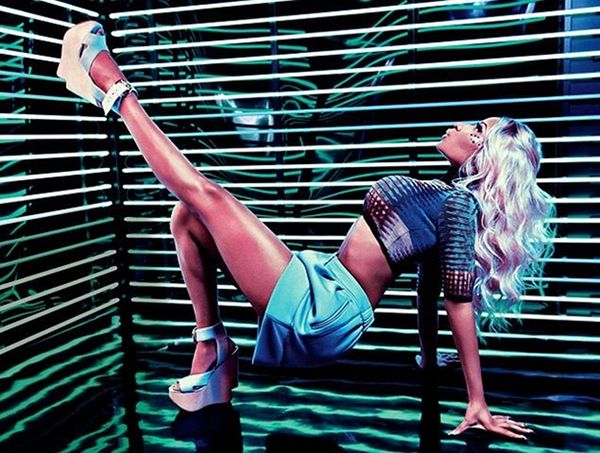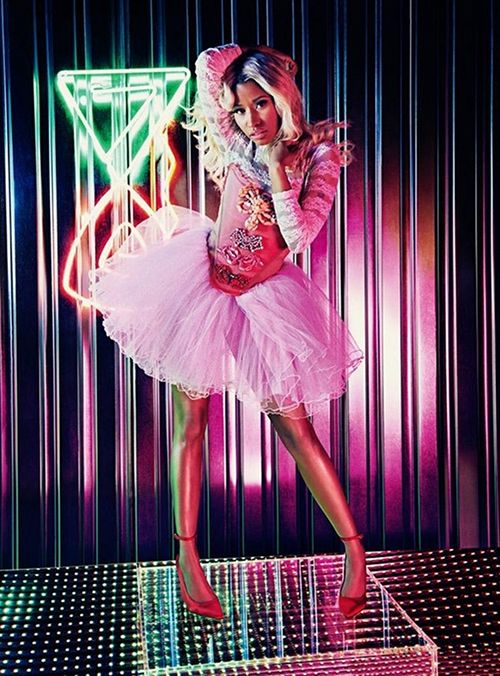 I know Nicki has been using Kim Kardashian's makeup artist Joyce Bonelli. Joyce's work is amazing she has done so many celebs but she tends to work more on Kim Kardashian and is responsible for her amazing makeup looks most of the time.
Joyce has done such a brilliant job with Nicki Minaj I'm sure they've changed her base and much more. Nicki's foundation doesn't look as heavy as it used to and she doesn't highlight as extremely as she did but other than that I am loving her.