Ok so while I was shopping with my friend Josh today he met some friends who he is interning for during LFW and they told us to check out the creative workshop which was being done in Selfridges on the 3rd floor by
Craig Lawrence
so after finishing our Wasabi we checked the workshop out. The workshop was actually very fun and amazing to watch we witnessed Craig Lawrence and creative individuals engage in weaving different types of fabrics it looked major cool. I wanted to get involved but felt very bloated after eating but Josh got involved and it looked really cool I hope to see more of Craig's work check out the pictures.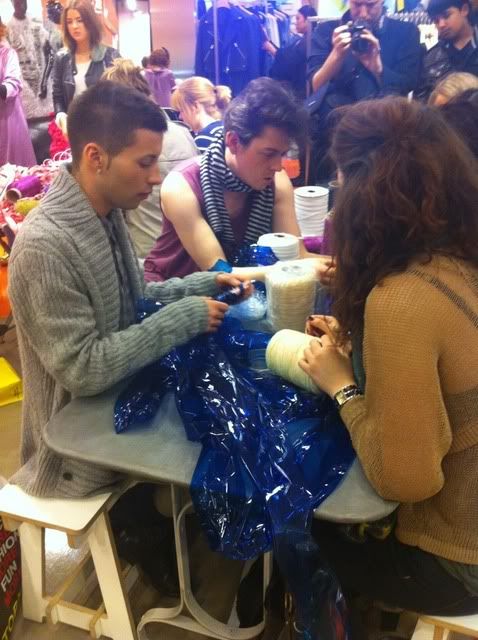 Craig In Action :)
Some of Craig's work displayed in Selfridges. I need some of his pieces in my life ASAP!
Craig Lawrence is a knitwear designer based in London. He draws inspiration from his childhood in Ipswich, where nostalgia, decadence and decay meet amongst Britain's seaside towns. Craig's approach to knitting can only be described as extreme, reinventing this ancient craft through unexpected use of both materials and form. Over six seasons, all before graduating from Central Saint Martin's, Craig produced knitwear for acclaimed designer Gareth Pugh, before setting up his own label.
Craig's Autumn/Winter 09 collection marked a number of achievements, winning NEWGEN sponsorship for an exhibition and also marking his LFW catwalk debut with Blow 'Presents' showcase. Craig's NEWGEN sponsorship is now in his 4th season. For autumn/winter 2010 Craig was proud to be included as part of the, LONDON show ROOMS, who took London's leading emerging fashion talents to New York, in partnership with Centre for Fashion Enterprise, to increase their presence and develop their media coverage and businesses in the USA. Craig also recently travelled to Tokyo to participate in an exhibition of his work in association with concept store. Craig works closely with stylist Katie Shillingford, who has remained a staunch supporter throughout his career and oversees the creative direction of his film and lookbooks...
Lawrence's other high profile collaborations include work with Levi's as a Levi's Original, with the Cassette Playa label, and for Alexander McQueen's McQ internet campaign. Craig Lawrence's designs have graced countless international publications and notably the limited edition cover of AnOther magazine as a showcase of Britain's finest new fashion talent with actress Tilda Swinton as the cover model. More recently Craig was selection as one of the leading creative forces in London by i-D magazine. Craig's designs have also proved popular with avant garde and experimental musicians including Lady Gaga, Skin from Skunk Anansie, Patrick Wolf and Bjork who wore one of Craig's graduate pieces at the Polar Prize music ceremony in Sweden.
Craig has some amazing talent check out this cool piece he made for
Skin
from
Skunk Anasie
for her tour A-M-A-Z-I-N-G :) Check out Craig's work
here