Hey People I thought I would do a post before

X-factor

lol ( Hoping Katie Goes*Sighs) Today I thought I would share with everyone what I have in my makeup bag and what I also use to wash my face and Etc. If you look at my previous post's you already know I use "Youth Surge" by

Clinque

which is amazing by the way so I have just taken Photos of whats in my makeup bag and what face washes I use during my week period. Sunday is such a lazy day I got up today I felt like Vintage shopping but I was just so tired and I didn't even go out last night even though I wanted to but I needed a break as I went out Friday I needed some good old sleep but I ended up going to bed at 6am Dont you just hate when that Happens?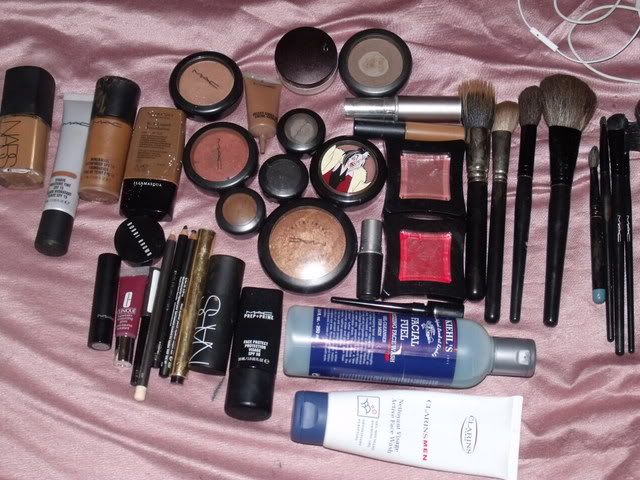 The Products there are so many OK! I will name them all some of you will know them just because there so popular some of them are not so popular Ill start with the makeup first :)


The Nars Mutiple Stick - Palm Beach

Touche Eclat - Ysl Highlighter

Guyliner (Black)

Rimmel Professional Eyebrow Pencil


Mac Pro Pencil - Pale Yellow

Clinque Sample Gloss - Wild Berry

Mac Long Wear Lipstick - Till Tomorrow

Mac Bronzer - Golden Defined

Bobbi Brown Creamy Concealer - Chestnut


Disney Mac Collection Matte Blusher in "Darkly My Dear"

Mac Eyeshadow "Brun"(Brown)

Mac Eyeshadow "Carbon"(Deep Matte Black)

Illamasqua Rich Liquid Foundation "325"

Mac Mineralize Satin Finish Foundation

Mac Studio Moisture Tint SPF15

Nars Sheer Glow Foundation

Mac Blusher "Trace Gold"

Mac Select Cover up Concealer nw45

Illamasqua Cream Blusher's ( Forgot Names Sorry!)

Laura Mercier Cream Bronzer Stick

Laura Mercier Highlighting Undereye Powder

Mac Contour Powder Shadowy

Mac Skunk Brush 168

Mac Eye shadow Brush

Mac Blending Brush

Mac Concealer Brush



Ok there is so much products there which I use on a daily basis I don't use all of them everyday its too much some more than others I don't even use my

Nars

foundation as much I love

Illamasqua

with a passion there products are so amazing I dont even have that many I need more of there products in my life because the packaging and the texture is amazing the

Illamasqua

Rich Liquid Foundation has the best coverage I have ever seen with a liquid foundation if you like quite a full coverage liquid foundation please buy it its amazing even go into one of their counters and try it out because it is amazing you can purchase their products here

. Illamasqua Cream Blushers

are amazing too I have too sorry I have forgot the names because the labels came off but I got the Nude Coral Pink one for my birthday off my friend and I recently bought the red creamy one myself its really nice on my complexion and it really wakes up my skin on those early cold mornings I walk to University you don't need much just a dab on the finger tips and pat on the cheek area. 2 days ago I recently bought a new product from

Nars

which is amazing I love it I bought a Multiple stick from

NARS

called "

Palm Beach

" the color is amazing it reminds me of

NARS

Gold body liquid that you can put all over your body but on a stick it's really nice on the cheek bones or on the bridge of the nose or on the eyelids I dabbed some on my cupids bow on my lips to highlight my lips its such a nice product you can check out

NARS Mutiple

Sticks Here

.

I use the Eye-Shadows on my eyebrows I mix

Brun & Carbon

together to get a perfect color for my eyebrows making them not to dark & not to light which is perfect following it up using a sharp Rimmel Professional Eyebrow Pencil there not even expensive and they work like any other eyebrow pencil, I bought an eyebrow pencil from mac in "Spiked" there not even a pencil there like a wax on the eyebrows and they are so expensive + run out very quickly indeed.

The Face washes I use are from

Clarins

&

Kiehls

My

Kiehls

face wash is an energizing face wash it feels so good when I wash my face with this because its like you know that feeling when you brush your teeth and you have that nice minty feeling on your teeth I get the same feeling but just on my face with this

Kiehls facewash

its truly an amazing product I recommend every guy get this product because literally its amazing and they deliver to I Literally cant leave my house without using this product check it out here +It lasts forever check it out here

.

I am a big Clarins Fan I have been using

Clarins

since I was 17 and I have never turned back

Clarins

has a special place in my heart I have used there Active Facewash for quite a while it removes all the toxins from your face and is made from natural products from plants

Clarins

is amazing EVERY MAN should have atleast one

Clarins

product in there bathroom because

Clarins

has been giving me good results since I was 17 check

Clarins

out here

.