Hey guys im literally back sorry i have been away for many months. My schedule has been so hectic i finished university and i did Pass but then I was working full time and it literally gave me no life i have been having major problems i hate working full time and its pissing me off very much i still have loads of things i need to work on literally its so stupid though. I got home today from my cousins wedding rehearsal and thought i should blog its just right i miss blogging so much and stuff and even doing videos on youtube since i have blogged i got the new iphone4 which is OK the hype was overrated to be honest.

Erm i dont know where to start i am no longer living in Greenwich London because i missed how so much and i became homeless its my fault for not looking for an house on time i got summer home sick and decided it was a good idea to move back to Birmingham A.K.A Boooringham its so boring here i miss london so much i stayed with my friend Jenny Bang for a while AKA LOVE_BANG it was amazing but i could not stay at hers for ever as i felt it was rude and too much to be fair a girl needs her alone time to be fair but i had the most amazing couple of months with her eating Chinese, watching keeping up with the kardashians and basically gossiping about certain things really hahah its was major sweet i cant wait to move back.

So much has happend to me its so crazy like i miss London Town.

Here are some pictures of crazy shit that has happened i literally could blog the months away but its a long ting



Ive been working on Djing but its a long process im not expert but have got some sick eqipment but because im working full time i get so tired but when i move to london that will progress indeed. Im also working on some music erm its nothing commerical or Popish but im working with a sick producer called Terrick from The Rock Boyz who is an awesome guy and he is doing me some beats as he gets time i implant him with my ideas and he makes the magic but more will be coming from that soon hopefully before the end of august ill post you a sample out :).




I finally went to Tinsel Town during my stay with jenny may i say that the food is Beautttttiful omgash its amazing it made my taste buds do black flips and sing one night only to me wow i must say it was very very tasty we went with Shanice & Matt and then with jenny's sexual housemate Simone :) it was an amazing time this is My Dish :)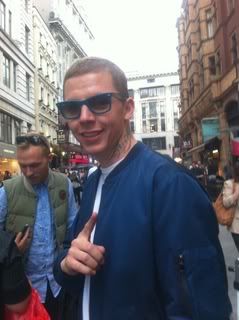 Look who i see while on my break while running to get pro plus & Chewits Professor Green he is such a nice guy i had to take a picture for Jenny as she loves him hahaha ill never forget that phone conversation while i asked him he is a cool guy and his album is indeed Hot :)





Recently when to London town last week to see J.bang :) and obviously party london style birmingham aint cutting it for me we went to E.London Darlston which we went to an Event called The Bang Bang which was a ladies night i did not know what to expect from the night its a ladies night if you get me and i did not want to be the only boy and i dont like a dangerous ghetto vibe if you feel me. The Bang Bang was so good everyone was friendly and funny and the music brought me back to my child hood the only thing that pissed me off was when the event organiser took the piss to upload the pictures theres such a thing as taking a joke too far and it was far far A BEG SITUATION he finally uploaded them but i want to go to a next bang bang event i hope its at Market Place more central and easier to get home i guess low the 27 dollar taxi with a black james bond driver WTF INDEEED.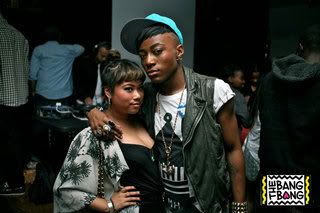 Dont we look Hot Y'all we both wore Leather and gold it was like edgy but with sex i love Ms Bang Henry Holland Leggings there my favorite:)




I got my nose Redone even thou i had it pierced like it closed i had to go to Selfridges Oxford st and get it opened it hurt like hell OMG but this week i changed it too an Nose ring its a bit Much but i like a nose rings its not too Snug and its not to big check it :)





The ring is cute Yah but like it hurts so much its sore i had to expand my hole a little to make it go in ew that sounds so Wrong but Owel lol but i like it for now anyways atleast it wont fall out when im sleeping like the other piercings:)



While at My cousins wedding rehearsal decided to take a picture of my sexy sexy vans don't you love them :)





I also got some new hightops from Size? For £40 which is a bargain i love them i have only wore them once :)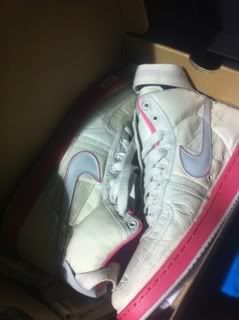 Lol Erm Im going to make a video before i go work tommrow because theres so much i have to say and my fingers are bleeding peace :)