Hey Biatches im back... omg my day was literally amazing i recieved my mcqueen scarf today all the way from Barneys courtsey of my Mumma it was all wrapped up so pretty i love it so much its so damn beautiful it hurts my old one blown away im afriad to wear this one i may frame it and just look at it when i feel down RIP LEE MCQUEEN How i love your designs if you literally asked me out i would slap any bitch even a family member to attend anywhere with you hahah :) Kidding hahah check out this hotness :)





Cute Hat - Urban Outfitters
Hoody - American Apparel
Shirt - All Saints
Cardy - All Saints
Face - By Himself G.T :)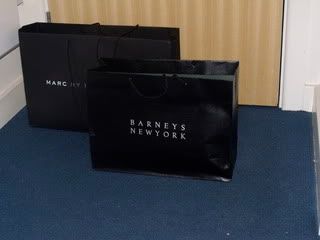 When i seen the bag my heart stop beating it smelt like New York now i know what alica keys is on about the Bitch :)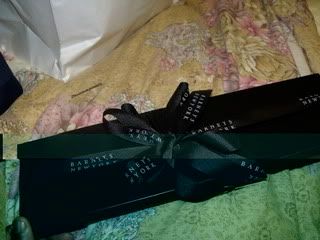 How Sexy!
No Words when i seen it how i felt my Mom got it on POINTTTTT! I HAD TO SLAP HER ON THE BACK
!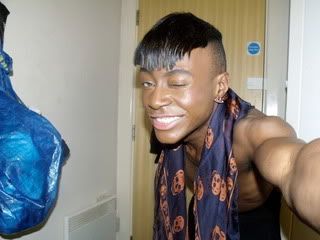 Since 14 aint na Hoe stop me Quoted By Diamond :)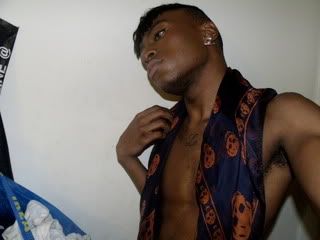 Im So Extraa <3>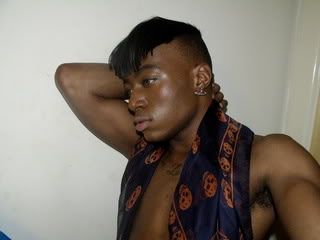 Too far alieee?





I Got some sexual wellies today from Marc By Marc Jacobs they were a bargain trust me i love them i wanted the pink bottom 1s as they looked swaggerlisciously sexyy is that even a word but its the first time i went to go and find the store i could not find it i went into Moschino they didnt know where it was then i went into Burbberry they sent me the wrong way finally some woman from Diane VB came outside as i looked lost and helped me bless her sweet soul i finally found it i,ve never been around these parts of london but i love it down New Bond St the store its not even on that street the best way to find it is to go to m&s by selfridges and walk across the road and walk straight down across some British embassy with security with guns i was so scared. I love these wellies i always wanted to buy some Hunter Wellies because every celebrity has them and i like them but i dont care i like these so much better and they are cheaper than Hunter wellies by yards i love the orange bit its so nice im thinking i want to wear them for creamfields if someone comes with me :(.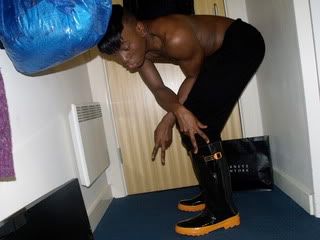 I dont know why but i think i look quite nice in this picture :)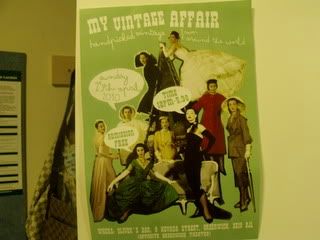 My lovley friend from the Greenwich Charity Shop across from weatherspoons is holding an event next sunday all the details on the flyer if you need more info msg me or email me on mrgarythompson@hotmail.co.uk but yes its going to be a vintage fair selling loads of vintage Levi, Escada, & Fur & Boots & Scarfs & Suitcases & Glasses its mixed they also have Menswear check it out its not expensive much and we all get out student loans monday so no excuse please go and support my friend and her peers and she is so sweet and lovley :) to get there you can catch the DLR From Bank Station or Jubliee to North Greenwich then the 188 from bus stop c from Greenwich Bus Station get off when it stops outside Greenwich University and walk straight down and turn left and you will see a Natwest then across the road its being held in that pub.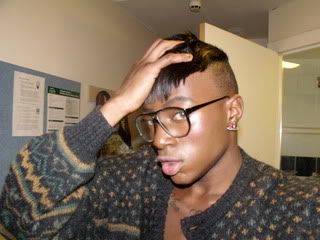 She gave me a little discount on this cardigan i got today its so cute i,ve had my eye on it since i been in there everyone should go on down to the Bee Vintage Store Across the road from Cutty Sark Station she has really nice stuff i love this cardy so much :)/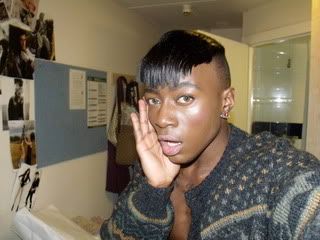 Thats all for today i really want to make more youtube videos i,ve had alot of messages for requests and stuff and i have a problem with my mac its just that my headfone jack broke and its stuck in my mac so i literally cant hear anything argh its so annoying should be fixed by next week.

I also went down to portabello road today i love it there so much my friend is so lucky he lives their in this huge damn house i can dream someday i can live there

thanks for reading

x